Double Rooms
Rates are per night and inclusive of breakfast:
Double occupancy from £ 85.
Single occupancy from £ 55.
All are inclusive of breakfast.
If guests opt for not having breakfast, a reduction of £ 5.- per person may apply.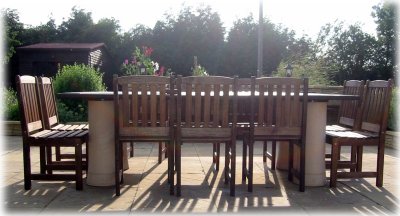 Provisional bookings
It is possible to make a provisional booking. When another enquiry comes in, I will get in contact with you first to check if the room is still needed. If that is the case, the provisional booking changes into a definite booking and the cancellation policy comes into force.
Block bookings
For block bookings for weddings or other happy occasions, I advise the person responsible for the logistics to pay us a visit first. It might be wise to discuss possible special needs of guests or transport issues prior to arrival. No better way to judge Langsmeade House's suitability than to come and look around yourself.
A word of warning. If you make a booking on somebody else's behalf and fail to provide me with their names, addresses, phone numbers and/or e-mail addresses, you are responsible for the bill if they do not show up or adhere to my cancellation policy.
Cancellation policy
No fees will be charged when rooms are cancelled 48 hours before the date of arrival. Otherwise, the room rate minus breakfast costs (£ 5.- per person) is payable and an invoice will be sent, to be paid by return. Should extraordinary circumstances be the reason for cancellations later than the 48 hours limit or not showing up, I only accept verifiable events. Think railway/airliner strikes, fires in the Eurotunnel, plane hijacking, pirate attacks on ferries. I bet you cannot wait to start travelling. Being a reasonable person, I also waive charges in case of death or urgent unforeseen medical treatments.