"Taxi" Service
We provide free in-house service for drop-offs within a radius of 7 miles from Langsmeade House for those guests who are without transport of their own or do not want to worry about driving. A number of good restaurants, such as the Manoir aux Quatre Saisons, fall within this radius as well as the bus stops for Heathrow/Gatwick and the buses to London Victoria Station (88 times per day!), the Park & Ride stop for Oxford and Haddenham Rail Station.
This service is a complimentary under the conditions that my car is in good working order, I am able to drive, there are no adverse weather conditions and I am not hindered by overriding commitments.
Please, bear in mind that we give you a lift to your destination, but we do not collect.
Laundry/ironing service
A 24-hour laundry service is provided and there is an ironing facility. We charge £ 5 - per machine load.
WiFi/Internet
Guests can have access to the Internet, send e-mails and work on a computer if desired. The friendly local postman collects out-going post every morning.
Parking
Langsmeade House is located off the main road and well hidden behind old trees. There is ample parking space for three cars, either next to the house or at the rear in the car park.
Accessibility
Langsmeade House has no bedrooms on the ground floor. The drive and parking area are covered with gravel and might give problems to wheelchair-bound visitors. Access to the house via the front porch/front door requires crossing a 16 cm high threshold. None of the rooms downstairs or upstairs have thresholds, except the conservatory which has a threshold of 5 cm. We provide assistance with your luggage. An adjustable walking stick is available. The staircase has 14 steps, measuring 17 cm high x 25 cm deep x 98 cm wide. After the first seven steps is a landing/rest point of 1 x 2 meters. There is a banister on the right hand side for the first seven steps and a banister on the left hand side for the next seven steps. The corridor, bedrooms and bathrooms are all exceptionally spacious and give ample opportunity for manoeuvering. The showers have an instep of 26 cm. The baths, instep 56 cm, have handles on both sides.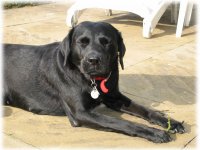 Children & Pets
Due to recent experiences with small children, we deplore having to change our policy with regard to the acceptance of children under the age of 6 years old. We feel that we cannot guarantee a normal sleeping pattern for other guests under circumstances when babies and toddlers get out of control of their parents.
We allow dogs. They must eat outdoors and not jump on beds, or worse, snuggle up under duvets. Best to keep them away from my Tom and Coba. They are guard dogs, that make pretty sure that your car and belongings do not change hands unintentionally. They are not cuddly Labradors that lick strangers to death. If you are nervous around dogs, follow the entrance sign to the front door and don't barge into the kitchen via the side door which leads into their territory.
Local information
Up-to-date information is available regarding events and attractions in the area. Various guides on London and Oxford and programmes of the local theatres are at hand. A booklet with menus of recommended local restaurants aims to give guests some guidance on where to dine and what expenses to expect. Assistance is given with booking tables and theatre seats.
Walkers & cyclists
There are various guides available on the best walking and cycling tours in Oxfordshire and the Chiltern Hills, proclaimed Area of Outstanding Natural Beauty. Packed lunches are possible, there is a special garage for parking bicycles safely, and the taxi can drop off walkers to the next chosen point of their tour.
Service for special occasions
Whether guests want to celebrate birthdays, anniversaries or any other festive occasion, want to pamper their loved ones for Valentine's Day or just surprise them for no reason at all, we are happy to be their ally in organising flowers, chocolates, champagne, dinners et cetera to make the day an especially memorable one.